Overview
Program Highlights
The Millikin Difference
Do you wonder how an Amazon package makes it to your doorstep? Management majors learn not only about this process, but also how to develop the team who makes it happen. Students in this major are decision makers who develop muscular skills in logistic orchestration, project management, and process improvement. They also focus on problem solving and relating with people to understand crisis and improvement. Students gain these skills through hands-on class projects, internships, and exposure to global trends and issues. All of this helps graduates run more efficient and effective businesses.
Performance Learning
Performance Learning initiatives with business partnerships at the local, national, and international levels in the community include participating in management consulting projects, developing staffing plans, designing and delivering training modules, planning projects and events, flowcharting and designing business processes, and developing and documenting quality management systems.
Career Opportunities
A management degree from Tabor opens up multiple career doors. Options include logistical functions, which is the fastest growing management-related industry, and human resources, which has become a competitive advantage for many businesses.
$52,149 Average starting salary for graduates
*National Association of Colleges and Employers, 2018
Contact us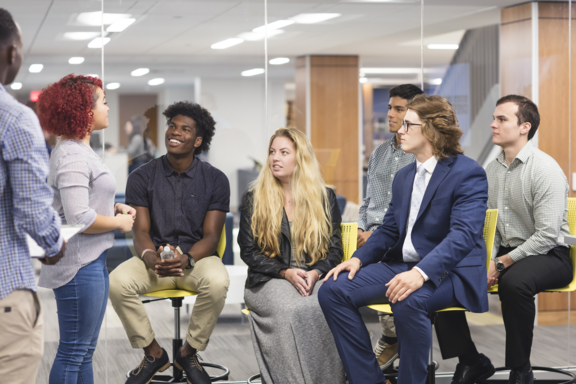 Required Courses
Departmental Course Offerings
Courses change each semester, so this list should not be considered a commitment to these individual topics. However, this does represent a list of many of our current and popular courses. The list is provided so that you can begin to imagine your academic career at Millikin in this major.
MG300. People and Performance
Understanding how and why people behave the way they do, and how that behavior affects individual, team, and organizational performance is an essential skill for business management. In this course, students will also learn how to influence their own, as well as others' performance to achieve positive results. They will be introduced to such topics as motivation, diversity, organizational structure and design, and explore how diversity and culture impact individuals and organizations. Pre-requisite: Junior standing. (3 credits)
MG305. International Human Resource Management
As firms grow and move towards globalization, the need to manage human resources becomes increasingly more significant and difficult. Humans are, after all, the most valuable resource that a company has. This course is designed to help students understand the human resource requirements necessary for operating within international environment. Emphasis is on international employment planning, recruitment and selection for international assignments, expatriate employee training and development, expatriate performance, expatriate compensation international labor relations, and repatriation issues. Pre-requisites: Junior standing and MG300. (3 credits)
MG340. Human Resource Management
In this course, students will learn that identifying the best employees begins with assessing the organization's needs and carrying out an appropriate recruitment and selection process, how training, development, and performance evaluations assist in shaping employees into an ideal firm resource, and finally, how acceptable and incentivizing compensation assist in retaining employees. (3 credits)
MG342. Training and Technology Applications in Organizations
In this course, students will explore how organizations can facilitate learning in a global environment with a specific emphasis on technology. Topics include the following: adult learning theory, training techniques, cutting-edge communication technologies and meeting facilitation. (3 credits)
MG345. Leading Organizational Change
Embracing and effectively managing change is essential for organizations to thrive in today's dynamic and complex environments. Effectively responding to economic, social, demographic, legal, technological, competitive, global, and labor market variables, requires continuous organizational change ranging from relatively minor adjustments to major strategic shifts. Regardless of the nature and cause of change, improper approach and implementation can lead to unintended consequences and/or disastrous results. This course focuses on how to approach and implement organizational change in way that maximize the likelihood of intended outcomes. Topics include organizational culture, reasons for change, framing problems and opportunities, psychology of change, and approaches to change. (3 credits)
MG355. Employee Staffing & Compensation
Examines conceptual issues, policies and practices relating to the attraction, selection, development, compensation, and planning for the most effective utilization of human resources. Pre-requisite: MG340. (3 credits)
MG370. Operations Management
A practical study of the decisions required to design, operate and control a manufacturing or service operation. This course explores the various relationships between these organizational decisions, Operations, and other disciplines within the organization. The relationships are discussed and documented through the use of Business Process Management and Microsoft Visio. The organizational decisions explored include forecasting, planning of personnel and equipment, inventory planning and control, scheduling, project management, theory of constraints, and quality assurance. Pre-requisite: Junior standing, Tabor statistics requirement. (3 credits)
MG372. Process Improvement
This course continues the use of process management which was introduced in MG370, and introduces the concept of Six Sigma and its tools. Students will develop a working knowledge of how to apply these methodologies across various industries. Each student will learn about quality management systems used globally. Pre-requisites: MG370 or consent of instructor. (3 credits)
MG375. Project Management
Project management is a carefully planned and organized effort to accomplish a specific (and usually) one-time effort: for example, construction of a building, event planning, or implementing a new computer system. Project Management is a skill which must be developed and practiced to be successful. The objective of this course is to master the principles of scope definition, Work-Breakdown-Structure development, assignment of logical activity relationships, resource and time constraint planning, construction of a budget and monitoring of planned versus actual progress using a variety of mathematical indices, within a defined timeframe and cost estimate. The concepts and techniques will be developed by navigation through one or more team based project(s) using a popular project management software package. Pre-requisite: MG275. (3 credits)
MG377. Supply Chain and Logistics
The student is introduced to Logistics in the context of integration within a firm's Supply Chain Strategy and Operations. The framework of Supply Chain Management is initially presented thereby creating a foundation for in-depth study of the five logistics operational components. Next the student explores the challenges and strategies related to design and operational integration of logistics within a global supply chain. Lastly, we discuss the administrative challenges related to cross organizational collaboration, performance measurement, and the challenges of managing risk and achieving sustainability. Pre-requisite: MG370 or consent of instructor. (3 credits)
MG471, 472. Management Internship
A cooperative course between the University and selected business to develop further professional training of management majors. Combination of work experience and written reports. Pre-requisites: consent of instructor and internship coordinator. (1-3 credits)